Home |User Account | Sync Types | Mapping | Download | Resources | Support | Licenses
Initialize SyncML server account
Which way to initialize a SyncML server account depends on your own privacy preference. For example, if you don't want to store your contact info on a public server, you may want to install a Funambol SyncML server on your computer, then direct your smart pone/PDA to communicate with the local SyncML server.
Initialize an account with a public SyncML Web service
The configuration described below for each service should be working for both PC base SyncML clients and smart phone base clients.
Memotoo
Memotoo is a comprehensive online sync service for mobile devices and PCs.
Configuration:
Remarks:
When doing two-way sync or slow sync, the modifications sent from Memotoo server may not include those contacts not existing in the client (Open Contacts), and in other words, Memotoo server will sync only those contacts existing on both sides. In contrast, Funambol server will send those contacts not existing in the client. Also, when sync for the first time, you may have to choose Sync Direct: Sync from Client.
This service is free for up to 40 records.
Initialize an account with locally installed Funambol server
It is assumed that your have installed Funambol server for Windows on your PC or a server machine in LAN. For more details of installing Funambol server, please check here.
Start Funambol Administration Tool. Logon as an administrator. The host name is the computer name on which you installed the Funambol server. For example, if you install on your PC, it should be your computer name of your PC. The default user name for administrator is admin, and the default password for admin is sa.
Add a user. The username/password pair will be used in SyncML Client for Open Contacts, as well as other mobile devices.
Tips:
To access functions of each tree node in the left panel of the Administration Tool, you need to double-click on a respective node in order display functions in the right panel.
When adding a normal user, please select the User role.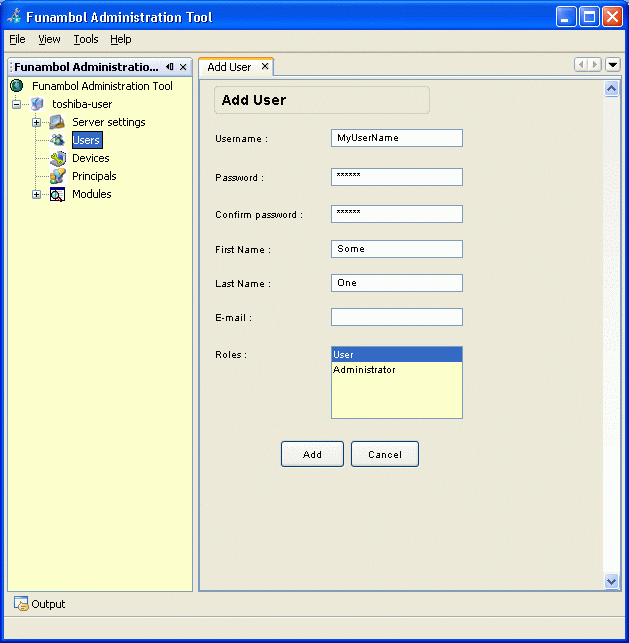 Remarks:
Even if you have the admin password, you should use a normal user account in the sync client to logon to Funambol server to do synchronization. The administrators' accounts should be used for administration purpose only. As common practice, you should change the password for admin and remember it firmly.