Print Selected Contacts
There are three ways of printing selected contacts, as described below
Third-party label printing program
Export selected contacts into either a CSV file or a MS Excel file, then use a third-party label printing program like Avery Design Pro to import the data and print. It is handy to use programs like Avery Design Pro to print labels, cards and envelopes. Please refer to the online help of these third-party software products. Please click here to find out more about printing labels with Avery Design Pro. In addition, with the exported files, you could easily do mail merge with MS Word and Email programs.
Built-in functions
Open Contacts provides a few functions of printing contacts on A4 papers. The fields of each contact on the printout are also grouped by sections.

After selecting contacts from either the People list or the Companies list, you may print with the Basic layout or the "Basic with Notes" layout.
Basic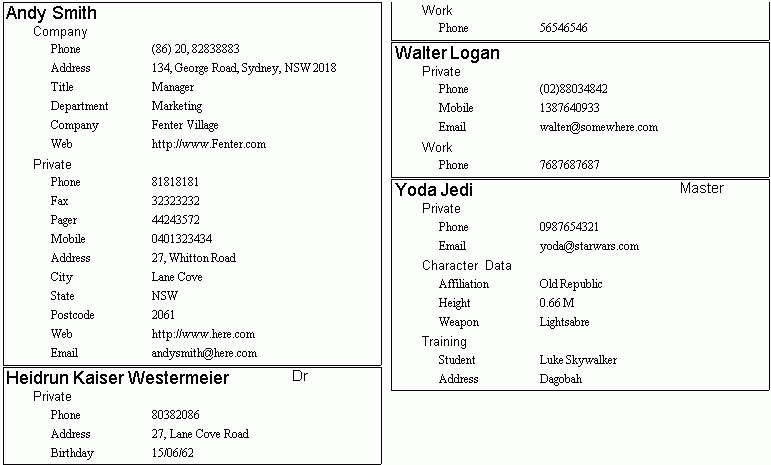 Basic with Notes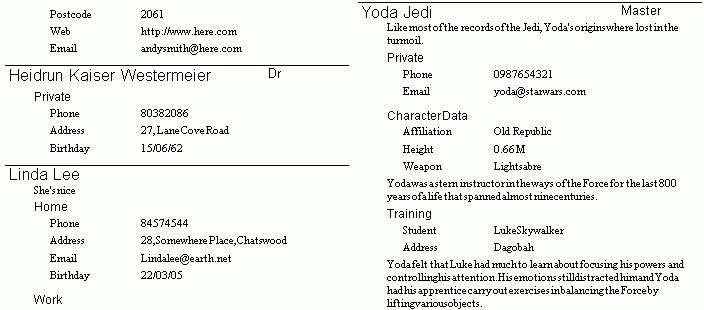 You may also do custom print to print selected sections and selected fields.
Define which sections and which fields to print.
Run [Output -> Custom Print -> Add Custom Template].
Add sections and fields that you want to print. For example, you may click the "Add Section" button to add a predefined section; if you don't want to print a field, you may just clear the field name.
Press the OK button to save the template into an XML file.
Template of Custom Print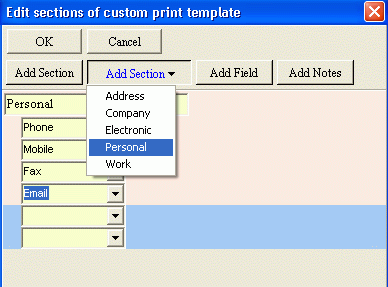 Custom Print
Select contacts from a contact list.
Run [Output -> Custom Print -> Custom Print with Template] and load the XML file.
Then you get the printout with selected sections and fields only.
You may notice in the following screenshot, because the program prints only fields with content, the whole layout is pretty compact.
Result of Custom Print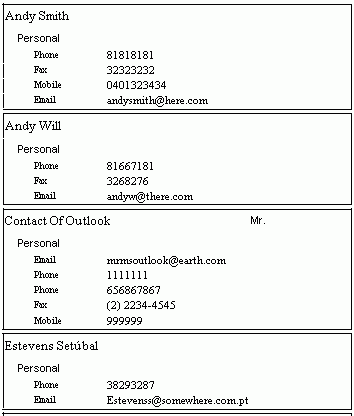 HTML Print
You can export selected contacts to a HTML file. Then print the content in a Web browser. For more details, please read chapter "Export".