Navigate and Lookup Info
When you have hundreds or even thousands of contacts in your address book, it will be handy that you can lookup them through initial letter, categories and searches. The descriptions below for people contacts also apply to organizational contacts.
Simply click on any category of the People Categories window, contacts under the category will be listed. If you click on "All", you will see all contacts listed. And a contact may appear in multiple categories if you categorized the contact into multiple categories.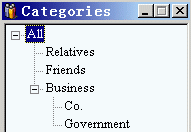 View Contact Detail
Double-clicking on a listed contact, the detail will appear in the Edit Person window. You may then edit the detail.
View Contacts of a Category and Subcategories Recursively
Right-click on any category, then contacts under the category and all its subcategories will be listed.
View Contacts Not Categorized
Please refer to Searches.
Click on button [ABC] to have the Initials grid, and the click on any letter cell in the gird, you will see contacts with the same initial letter in the People List window. If you click on the first cell, all contacts will be listed.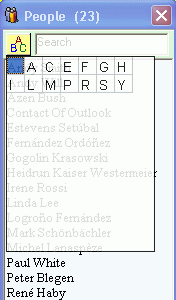 Select a contact in a contact list, then press F10 to launch the Quick View window, which gives you a snapshot of contact details in customizable format. When you single-click on a contact in a contact list or in the search window, you can view the details in the window. In addition, if you check the lock checkbox, the content will be locked, regardless whether you clicking on the other contact. This is handy when you try to copy/paste a little details from one contact to the other.
If you choose Advanced Style Sheet in the Options window, you will have action links to phone, Email, contacts and categories. Clicking on any of the action links will result in some action with respective application such as telephony and Email etc.