System requirements
Server


Clients

PII or above, 128M

Windows 98/NT/2000/XP, MS Office 97/2000/XP [optional]

Latest Windows patches

Email client such as Outlook Express, Netscape Mail, or MS-Outlook [optional]
| | |
| --- | --- |
| | If you run both the database server and the program on the same computer, it is recommended that you have your computer running with Windows 2000/XP. |

Printers [Optional]
Media Rental communicate with printers through standard Windows interfaces. The clients of Media Rental may use up to four printers for printing hardcopies of invoices, receipts and other reports. These printers could be different physical printers or different settings of the same printer. You may set printers through the 'Station Config.' window.

Report printer (A4)

Invoice printer (80mm)

Receipt printer (80mm)

Barcode printer
The following diagrams illustrate how computer equipments could be established to run Media Rental.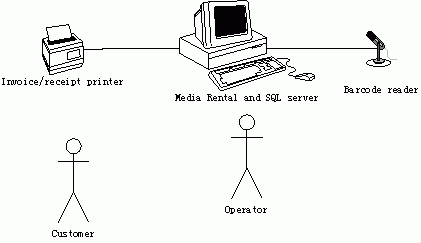 Minimum hardware setting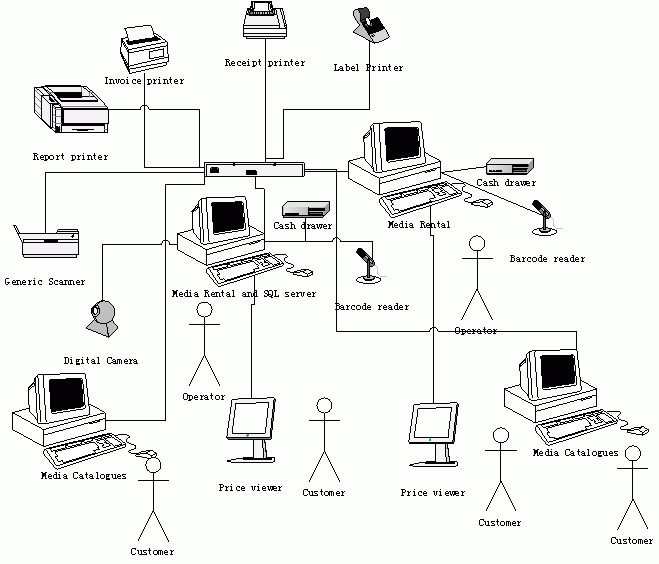 General hardware setting
In practices, the hardware settings may be somewhere between these two configurations. It is more reliable that you have Firebird database server running on a server machine, for example, a NT server, Win 2000 server or Linux server.
Note:
If you want to run more than one copy of Media Rental in the same store sharing the same database, you need to purchase one of the multi-user licenses. If you try to run more than one copy while you have a single-user license, one of the copies will terminate itself.
More examples: